PENANG AIRPORT (PEN) INFORMATION
Origin
Airline
Flight no.
Scheduled
Est./Actual
Status
No flight arrivals were found at Penang Airport.
Destination
Airline
Flight no.
Scheduled
Est./Actual
Status
No flight departures were found at Penang Airport.
Car Hire at Penang Airport
UNBEATABLE VALUE CAR RENTAL
Free Amendments | Free Cancellations | No Card Fees




Penang Airport - All Information on Penang Airport (PEN) Penang Airport
Lapangan Terbang Antarabangsa Bayan Lepas, 11900 Bayan Lepas, Penang, Malaysia
phone +60 3-8777-8888/+603–8777-7000
phone+60 04-252 0278 (Lost + Found)
emailmhlbag@malaysiaairlines.com
call_end+60 387874670 (fax)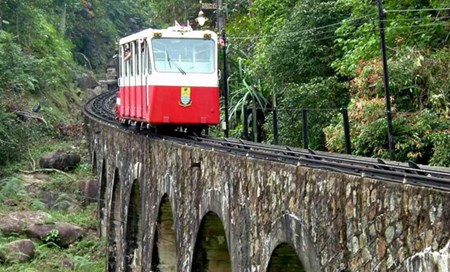 Malaysia's third busiest airport has the official IATA code of PEN – standing in for Penang International Airport. Located a mere 9.9 miles/16 km south of George Town, the airport serves a large region and provides extensive links with major cities across South East Asia and beyond. George Town is Penang region's capital city.
Penang has not lost in popularity with tourists, who over the years have come to adore the "Pearl of the Orient" and many return as often as they can. Malaysian people are friendly and charming and Penang, with its wonderful stalls selling delicious street food, its beautiful architecture and fascinating culture is attracting a large number of tourists every year.
In 2017 some 7.3 million visitors used Penang International Airport.
The official airport address is at:
Lapangan Terbang Antarabangsa Penang, 11900 Bayan Lepas, Pulau Pinang, Malaysia, tel +60 (0) 4 643 44 11 and fax +60 (0) 4 643 5399.
Penang Airport serves mainly the north of western Malaysia and the premises are medium-sized, with check-in and baggage reclaim being comparatively faster than at large sites. Kuala Lumpur and Kota Kinabalu International are both busier and larger. Penang International is mainly used by two budget airlines, namely AirAsia and Firefly.
Arrivals and Departures at Penang Airport
Better known carriers operating from Penang International Airport are Cathay Pacific, China Southern Airlines, Malaysian Airlines, Wings Air and Thai Airways International to name but a few. The carriers fly to destinations like Medan, Singapore, Kuala Lumpur, Bangkok, Hong Kong, Jakarta or Guangzhou.
The airport's runways are 10,997 ft / 3,352 meters in length and last year the location recorded some 147,057 tonnes of airfreight movements, not a bad achievement for an airport of this size!
Passengers arriving at Penang have a choice of public transport available. A number of local and international car rental companies have offices at Penang Airport. There are taxis, of course, but there are also 3 bus routes taking visitors into the capital city. The Rapid Penang service has its own bus counter on the ground floor level of the arrivals hall and a ticket for bus line U401 costs around 2 – 3 Ringgit. The bus will stop at a number of halts until it gets to Komtar, from where a 5 to 10 minute walk will take visitors to hotels like the Tune Hotel. Due to the many stops, this service can be a lot slower than the name "Rapid" might suggest!
At the taxi counter in the arrivals hall, passengers can ask for assistance. Once the helpful staff know, which hotel a visitor is heading for, they will issue a voucher to the visitor, for which the visitor pays and the tourist then takes the paid voucher to the taxi stand. The taxi driver issues a counterfoil to confirm that the transaction has been concluded, when he/she delivers the passenger safely to their destination. This system is designed to reassure foreign travelers, who might be worried that due to language difficulties they might not negotiate the correct fare.
The fare depends on where one stays on Penang Island and there are 7 different zones. Zone 1 costs around 14 Ringgit, Zone 2 will cost around RM22 and Zone 5 to George Town will cost around RM38, if one wishes to be dropped off at the Hotel Berjaya. During 12 am and 6 am passengers will have to pay a 50% surcharge for taxi services, no matter where they go.
Local markets are famous and travelers rave about the variety of fruit and vegetables on offer as well as the amazing fusion of Asian food that one can buy cheaply from street vendors.
For more information about Penang International, please visit the official website at https://www.malaysiaairports.com.my
The Air Transport Association (IATA) code for Penang Airport is PEN. It is also identified as Penang International We have provided the GPS location which are as follows 5.30000, 100.26667 to help either your arrival directions to or perhaps give you directions from the airport to your chosen destination.
Hotels near Penang Airport
There are a number of hotels to suit all budgets and requirements at or near Penang Airport.
Parking at Penang Airport
See options for parking services at Penang Airport.
Additional Services and Amenities at Penang Airport
At Penang Airport you will find the usual array of bars and restaurants, airport lounges and shops.
Things to do in Penang
There are a number of activities to suit all ages and interests in the region - see a selection of tourist activities in Penang, Malaysia.
Services at Penang Airport
Useful Information about Penang Airport