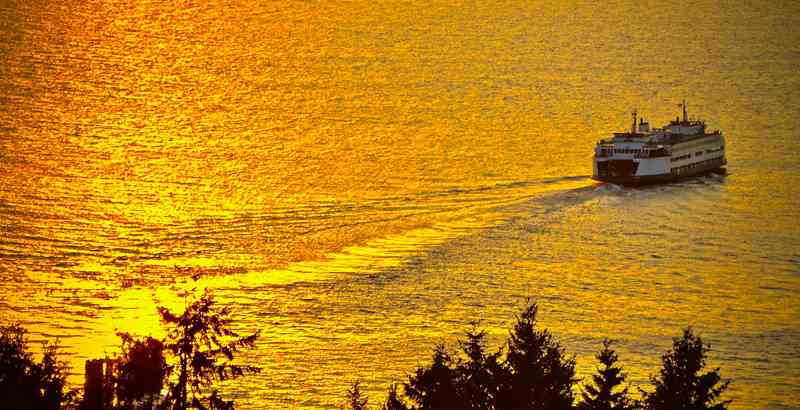 Penang Ferries
Ferries from Penang International Airport depart in George Town, located some 16 km / 9.9 miles distance from the airport. A regular bus service operates between the airport and city center locations, as well as the bus terminal in Victoria Street, which is near the main Ferry Weld Quay.
Visitors who are staying on some on the islets just offshore from Penang Island need to take a ferry to the terminal at Weld Quay (Pengkalan Weld), which is situated in the eastern part of George Town.
There are also regular ferry services operating between Butterworth and the George Town centre. Foot passengers will be asked to pay RM 1.20 per person per single journey from Butterworth to Penang Island, but motorists go free. The ferry service stops running at midnight, even though some guides might say that it operates 24 hours a day. Although there is a huge Bridge connecting historic George Town and the more industrial Butterworth, the traffic on the bridge at peak time can bring progress to a halt, so taking a leisurely ferry ride, while seeing the sights is a great alternative.
Bus and train stations in Butterworth link George Town with the major cities on the Malaysia Peninsular. Visitors should note that train tickets must be purchased in advance.
At Butterworth the ticket counters are situated under the overpass next to the small market area. From here one can take trains south to Kuala Lumpur and Singapore and north to Hat Yai in Thailand or link up with the State Railways of Thailand's International Express to Bangkok.
Ferries from Penang International Airport's nearest city George Town go to some of the most popular tourist attractions. The Isle of Jerejak (Pulau Jerejak) is such a place and visitors enjoy trekking on the jungle trails through the lush vegetation in Malaysia's tropical rain forest climate. For a more relaxing time there's even a Spa resort on the islet, where visitors are sure to receive some pampering.
Other tourist attractions related to ferries from Weld Quay are the Clan Jetties, traditional huts erected on stilts that are embedded in the sea bed. Visitors should be cautious when walking in this area as pickpockets are plentiful and the wobbly jetties can be quite dangerous. Nevertheless, this area gives a vivid insight into the way in which locals have lived for centuries.
A regular boat service operates between Penang and Langkawi, Medan and Pulau Payar, a journey that takes around 5 to 6 hours to Medan, Indonesia and just 2 to 3 hours to Langkawi. The ferry terminal entrance is opposite Fort Cornwallis at the Esplanade, adjacent to the famous Victoria Clock Tower. The main entrance is sign-posted as Swettenham Pier, but that is for cruise liners and military ships on a visit. The passenger terminal entrance is at King Edward Place. The journey costs around RM40 for a single adult ticket and RM75 for a return ticket. There are only three services daily at 11.30am, 14.30pm and 17.30pm, so it advisable to book in advance, as it can get very crowded.
For more information about ferries from Penang International Airport, please visit the official airport website at https://www.malaysiaairports.com.my
UNBEATABLE VALUE CAR RENTAL

FREE
Amendments,
FREE
Cancellations,
NO
card fees!

airport_shuttle Need Airport Transfers?
Useful Information about Penang Airport